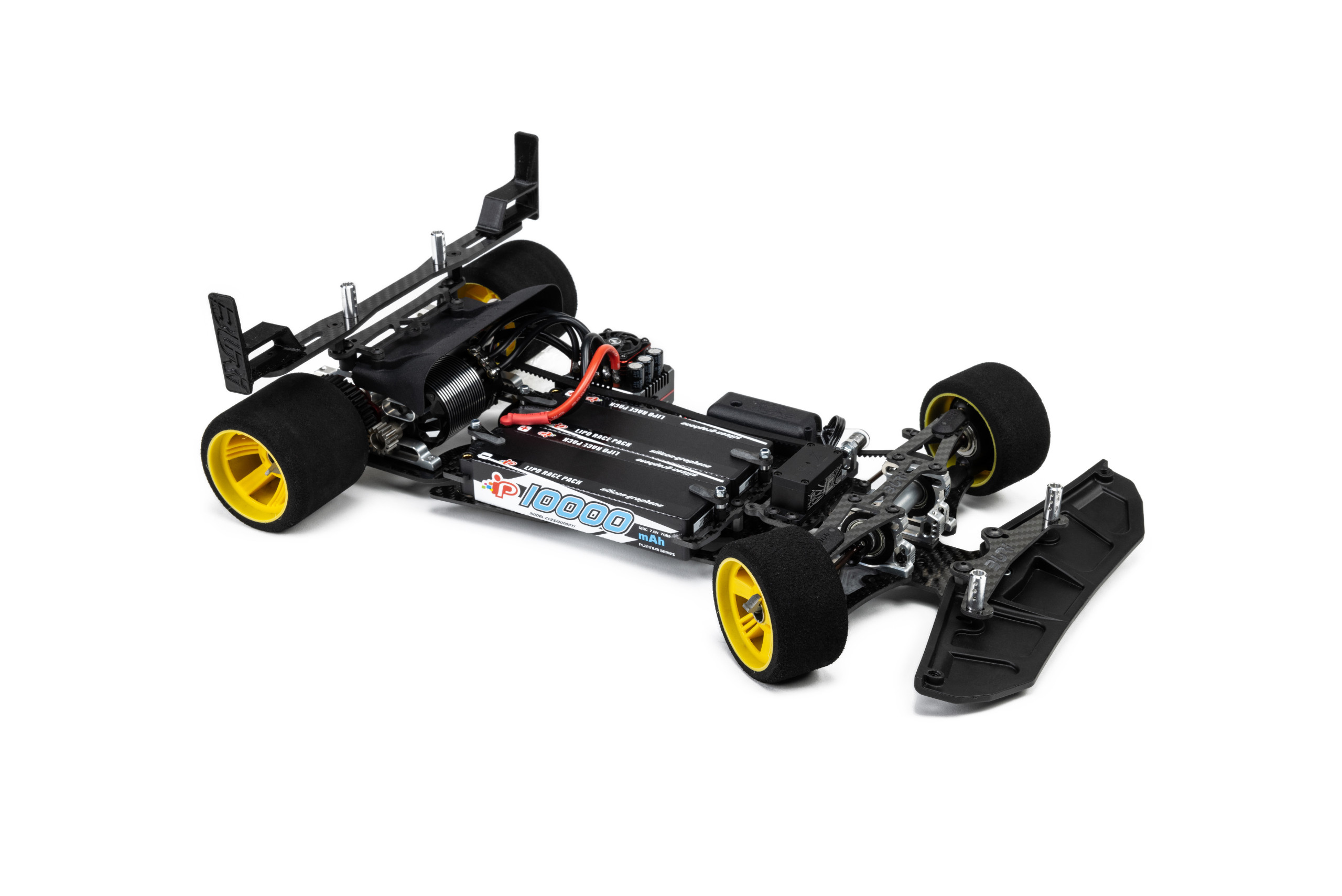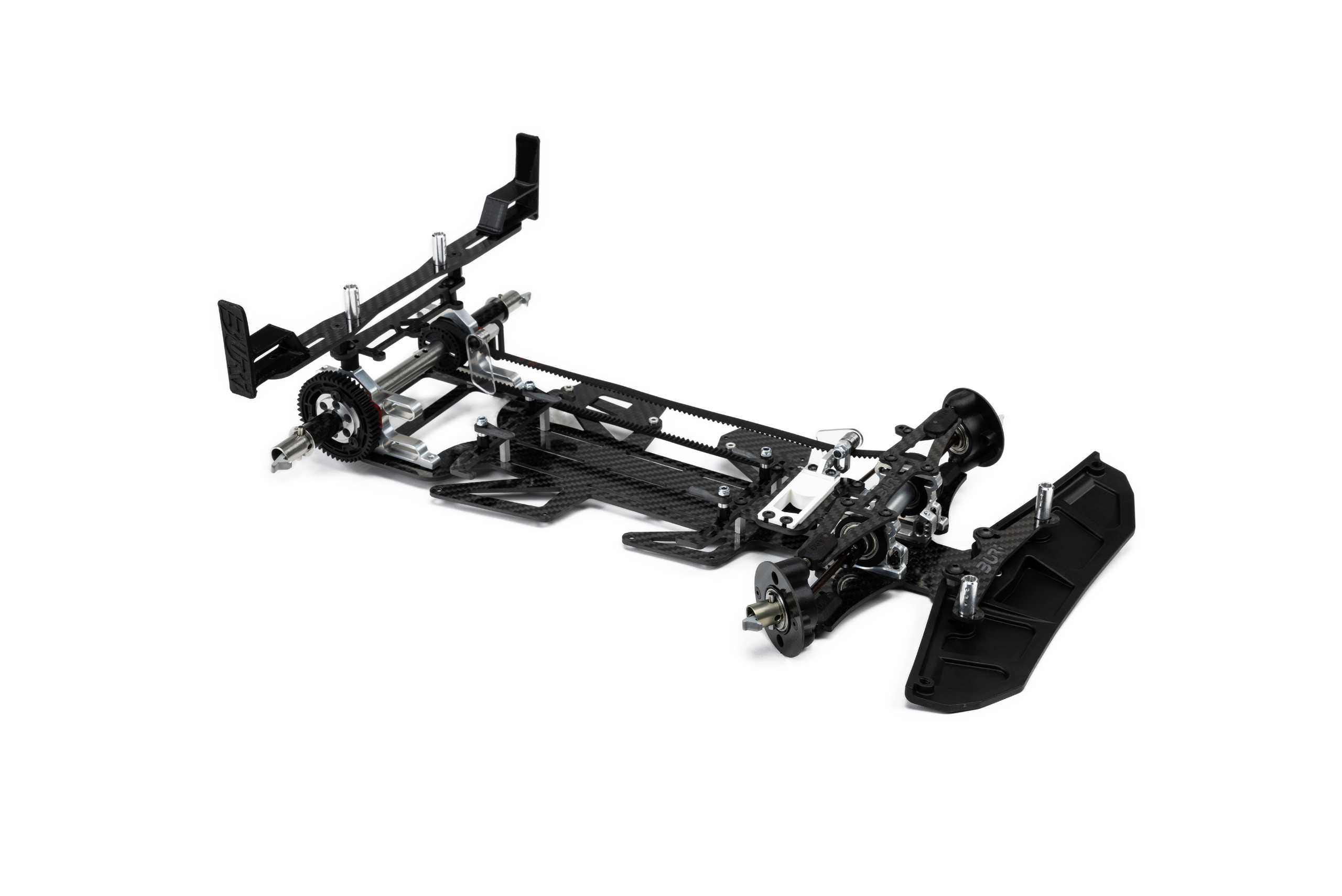 Keep It Smart & Simple
(the KISS-Principle)
The impressive evolution of the classic E1: a non-suspensioned 1/8 electric 4WD racing chassis - easy to drive fast with low effort in setup and maintenance – there is more time for fun!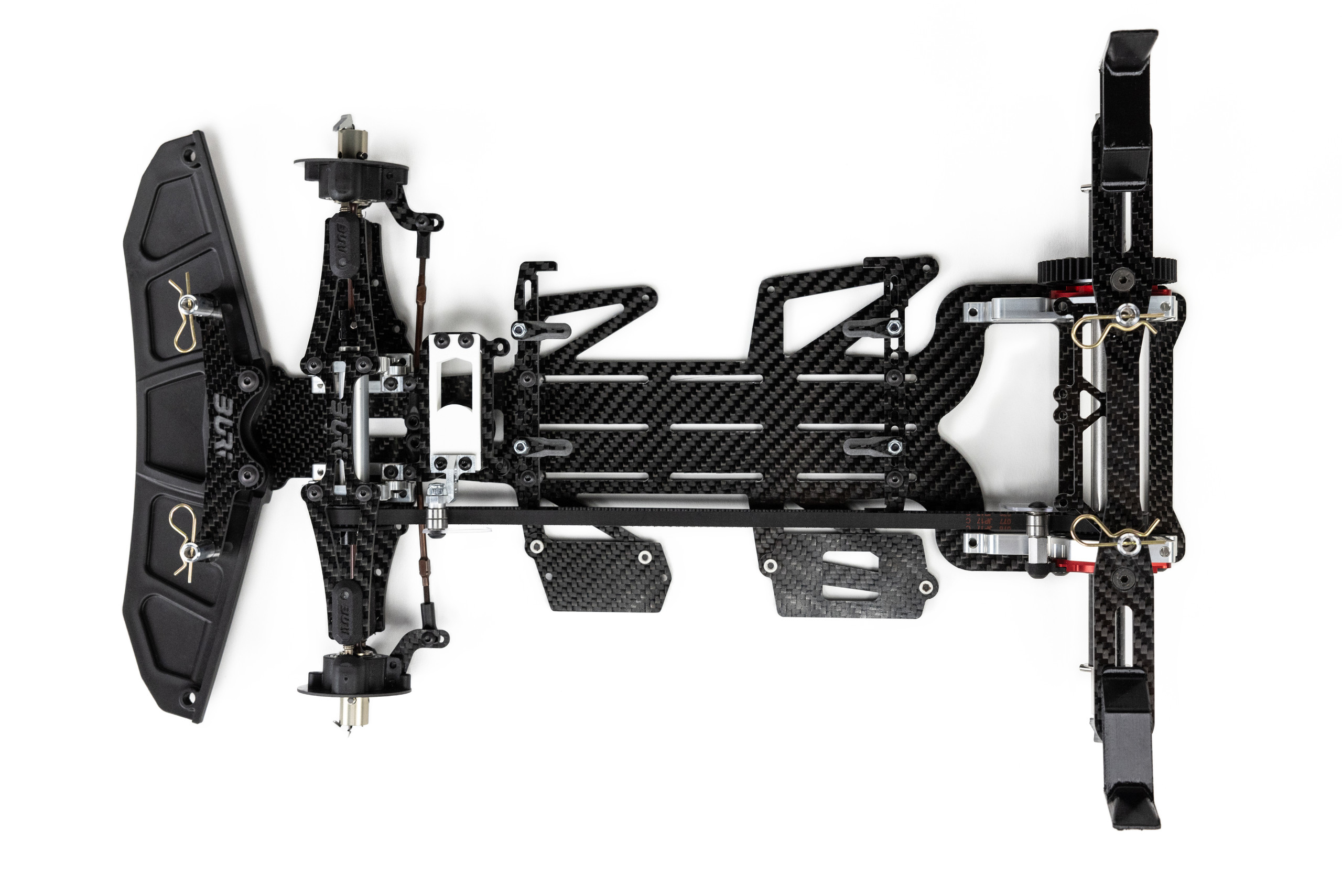 A simple chassis with plenty of setup options, low centre of gravity and a maximum in flexibility. Quick-release fasteners make it easy to replace the batteries.
Modern, high-quality materials enable surprisingly great driving experiences: premium carbon, aircraft aluminium 7075 or high-strength steel alloys are used.
The main gear, belt pulley and quickrelease fasteners for the wheels are mounted directly on the one-piece rear axle.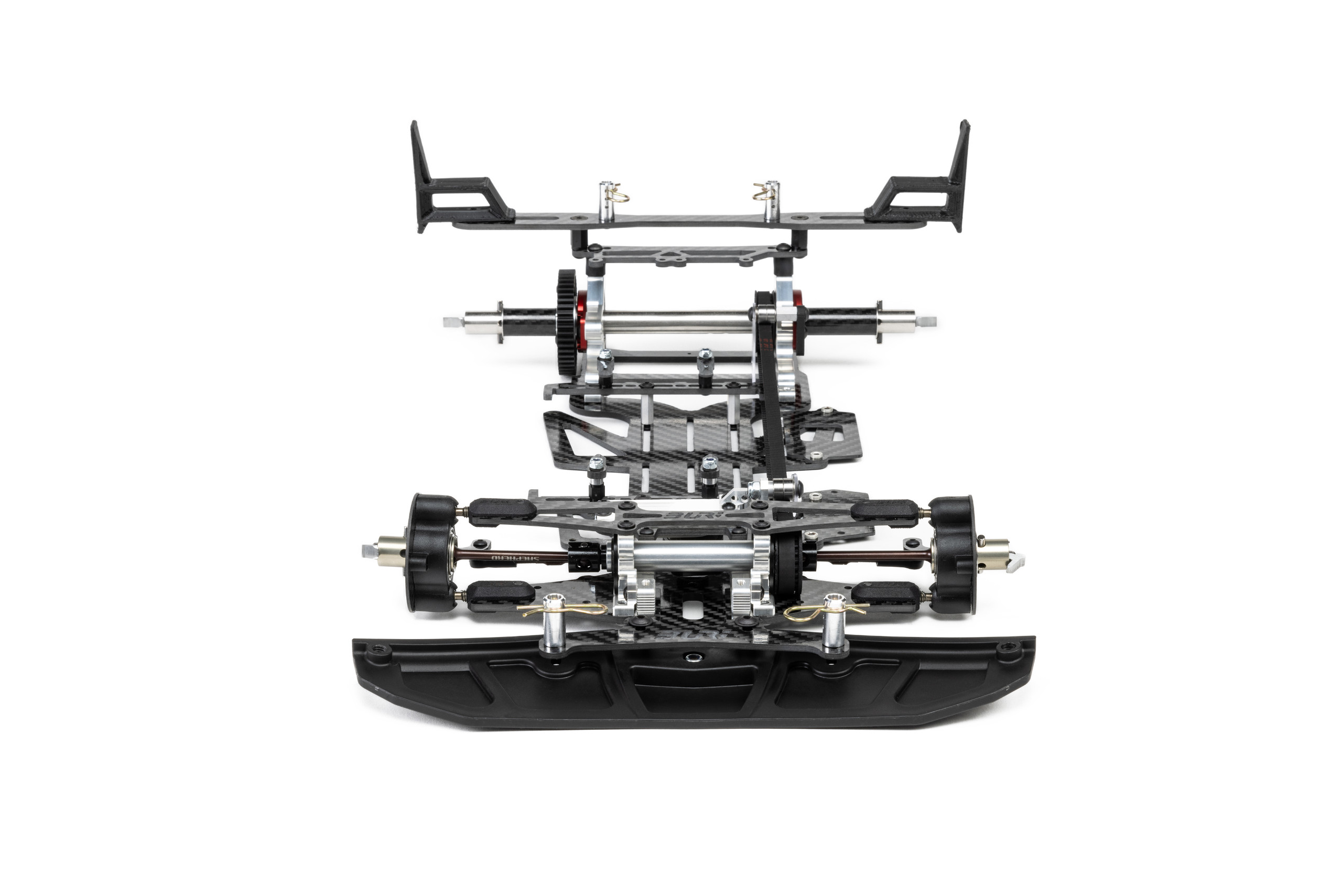 One single timing belt transmits the drive laterally to the front wheels via freewheels.
The complete front axle is mounted directly on the chassis plate. The inverted low-profile steering servo with the attached servo saver enables very direct steering.
The caster can be changed by moving the upper carbon plate. Setting the camber and ground clearance are very easy. The balance can be adjusted by moving the batteries or the placement of the receiver.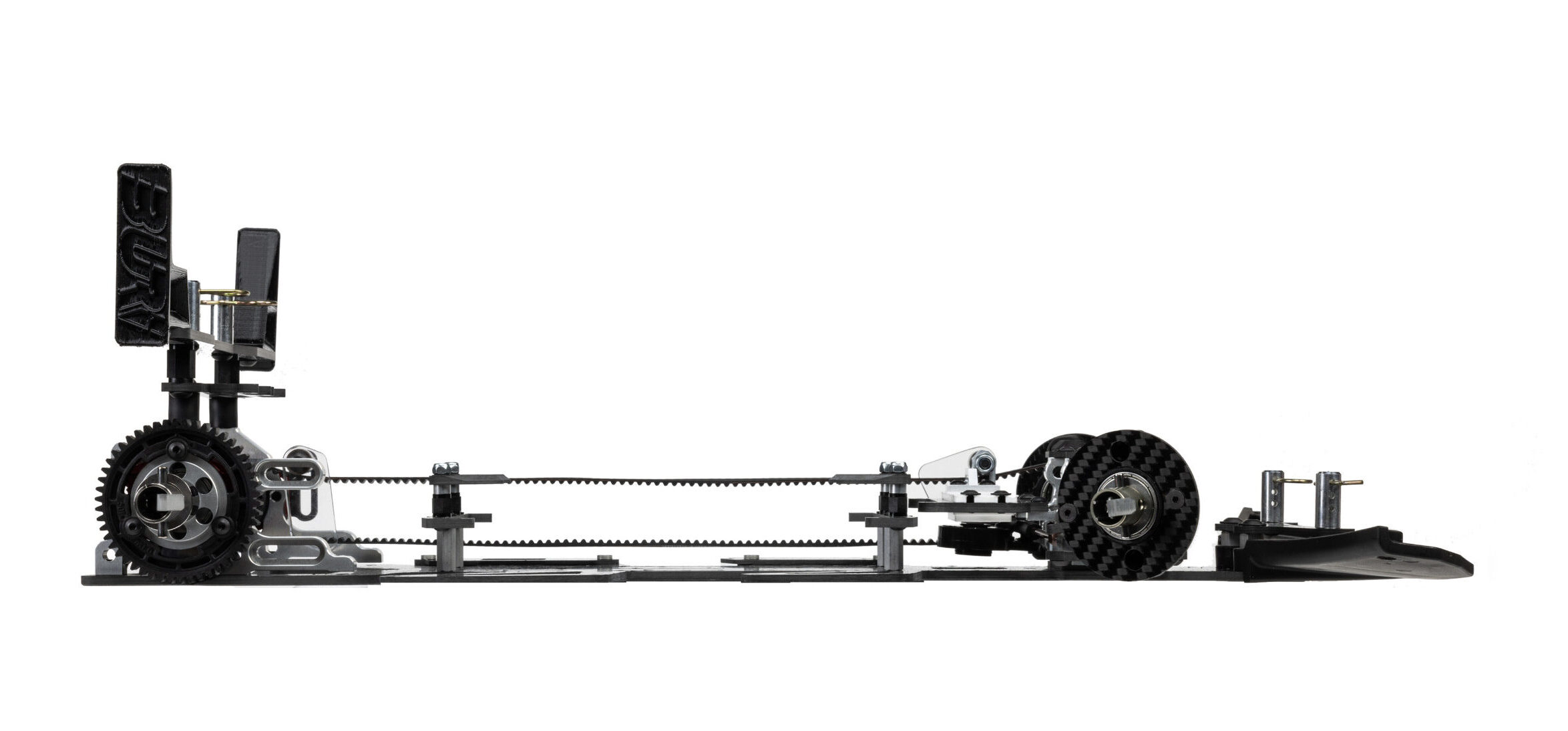 The low and centric positioned components guarantee a well-balanced driveability.
The BURI-Racer E1 is ready to drive in about 3 hours from around 100 different parts!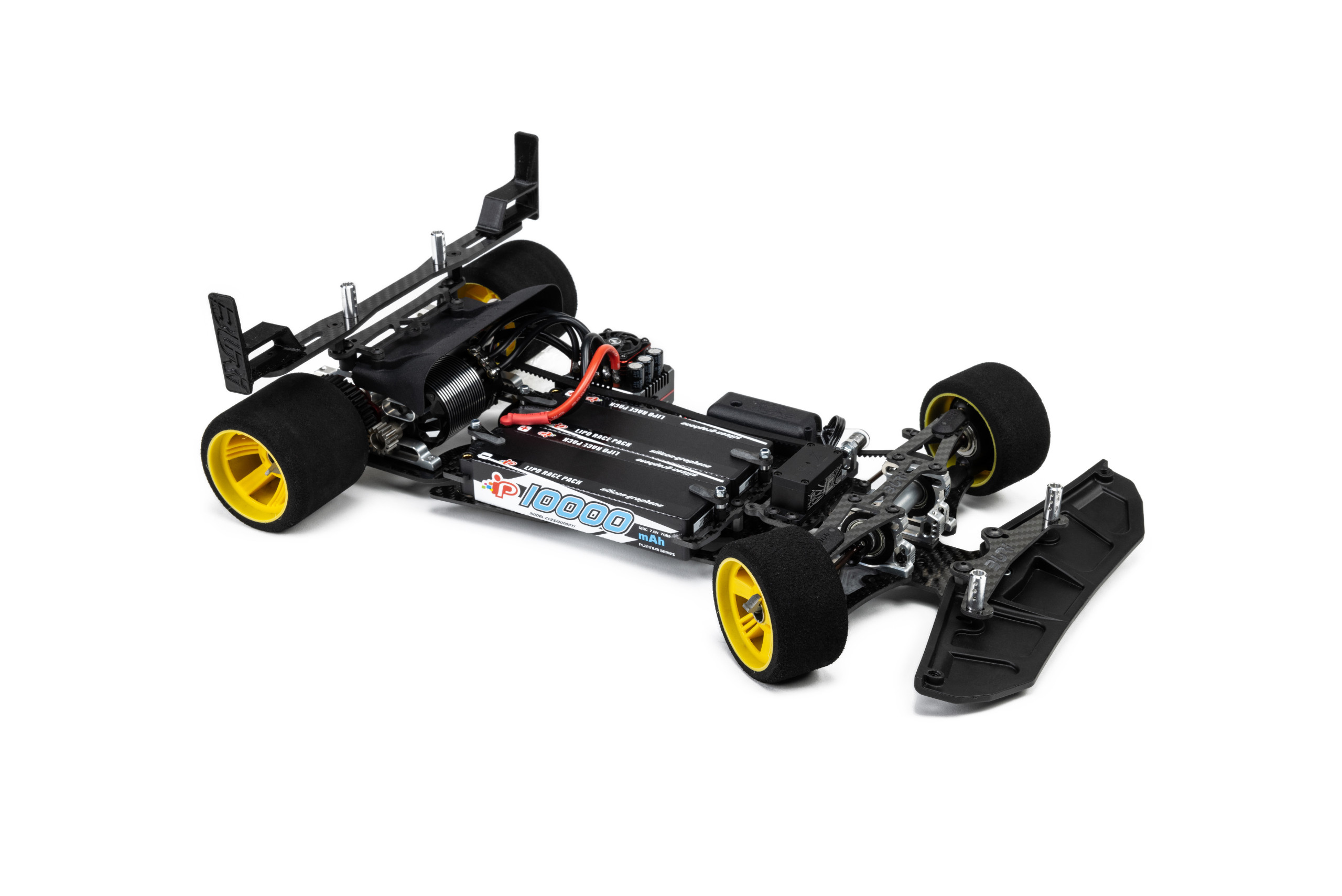 Equipment
(not included in the kit)
Our recommended equipment:
| | |
| --- | --- |
| Motor: | Φ 42 x 69mm (max. lenght), shaft Φ 5mm, 1850 - 2300kv, with/without sensor |
| ESC: | >120A, 4s |
| Batteries: | LiPo 4s, >6000mAh, >100c (4s-block / 2x2s stick / 2x2s shorty) |
| Tires: | Standard OS2 rims - front 32 shore Φ 69mm / end 35 Shore Φ 71mm |
Technical data:
| | |
| --- | --- |
| Chassis lenght: | 436mm (with body: 515mm) |
| Width: | max. 267mm |
| Chassis height: | 110mm (width body: 180mm) |
| Track width front: | 258mm |
| Track width rear: | 265mm |
| Wheelbase: | 297mm |
| Total weight: | 2100g (may vary depending on the installed components) |
WordPress Cookie Notice by Real Cookie Banner